Preorders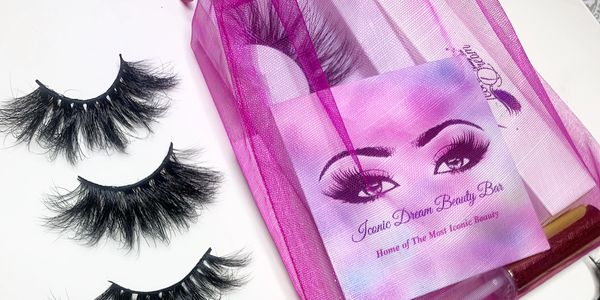 How long will it take? How does it work?
All pre-order/ back-orders will be ready for shipping, delivery, or pickup within 7-21 days.
Your order may be fulfilled sooner than 7 days, but no later than 21 days.
Should pre-orders or back-orders take longer than our maximum time frame you will be notified by email promptly. 
Orders that include items that ARE in stock will not ship out until the ENTIRE order is ready.
If you would like to receive items in stock prior to your pre-ordered/back-ordered products being ready you will have to order those items separately.
Proper care of strip lashes 
When removing your lashes, be as gentle as when you applied them.
Use a point tweezer to gently remove any excess glue from the lashes after

 

EVERY WEAR.
Store safely in the box - use the original box or casing to keep your lashes safe and clean.
Avoid mascara - Mascara, especially waterproof mascara, can damage mink so try to use as little as possible and only on your own lashes before putting on your

 

Iconic Dream Luxury Lashes.
 Don't soak in water- never soak your lashes in water or any other liquid as it may ruin the shape and curl. You may quickly rinse them and leave them to dry when needed
Don't tug or pull on the lash when removing glue, they are delicately handcrafted- treat your mink lashes the same way you treat your own lashes and be gentle when cleaning.
Don't use oil-based solutions or harsh chemicals- this is a huge no for any type of lash you are planning to reuse. Oil residue will repel the lash glue from sticking to your lash band during the next application, and  it will damage and weaken the construction and look of your mink lashes. 
Lash Extension Aftercare
Do not get lashes wet for 24 hours. 
Use oil free makeup removers.
Avoid oil based products
No waterproof mascara 
Clean and brush lashes daily 
Avoid high heat I.E saunas, direct blow dryer heat.
No tugging, pulling, or rubbing your lash extensions.
Post Wax Care
1st 48 hours 
Avoid sun or tanning bed
Avoid exfoliating 
Avoid alcohol based products on treatment area
Avoid fragranced products on treatment area
Avoid tight clothing that could run out irritate treatment area
Avoid Hot tubs or saunas
AFTER 48 hours
 DAILY
1. Cleanse (preferably cleanser containing salicylic acid)
2. Tone
3. Moisturize
 WEEKLY
exfoliate three times per week